Blog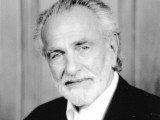 I had lunch with Robert Kritz yesterday in his swanky retirement home on Lake Shore Drive and it was quite an experience meeting him.  He's going to be a guest on my show Relevant Tones for a segment I do called Composers Among Us in which I interview composers who don't have a major profile, people who could be behind you in line at the grocery store and you'd never know that they spend a considerable amount of their time thinking about shaping sound.
Many of the composers featured for this segment have unusual career paths and interesting stories but I think in many ways Bob's tops them all.  His compositional career was interrupted numerous times over the course of his long life, he's 87 at present, but he always found a way to get back to it.  Bob was always musical and played the piano in several dance bands but then was drafted and fought in World War II.
After the war he married at the age of 21 and they had a child but the child was tragically born without kidneys and the time spent in the womb drawing off of the mother's kidneys damaged irreparably damaged them and both mother and child died.  Bob was stuck with the bills and so for the second time he put off thoughts of composing and entered the business world to earn enough money to pay off the medical bills.
Then came another wife and eventually a large family and there was no time to compose until he retired at the age of 65.  He decided he wanted to start composing again and he took his 45 year old scores to Northwestern University and showed them to several professors who liked the music enough to organize a concert of them.
Several musicians at the concert liked the music enough that they commissioned Bob to write new pieces and set off a ten year flurry of performances and commissions that eventually waned but did result in several pieces, including his saxophone concerto, that are still performed today.  All of this was in the late '90's when I was a composition student at Roosevelt University and I remember it well.
I was very pleased when I met the saxophonist David Pituch, one of the many musicians championing Bob's music, and he suggested a show.  Bob will be my guest for a live show on January 31 starring David on saxophone and members of the Orion Ensemble performing his early pieces and some that are brand new.  It should make for great radio.
One response to "Composers Among Us: Robert Kritz"
News
'Sawtooth Hammer' Performance on August 15th

Sound of Silent Film is April 30 and May 1

'Dreaming Grand Avenue' Film Premiere September 23rd

September 23rd

7:00 PM