News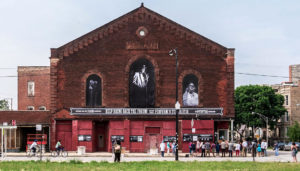 ACM has partnered with the Chicago Architecture Foundation on their Open House Chicago project since its inception in 2011.  We commission composers to write music inspired by some of the spaces and then put musicians in the buildings on the day of the event to play the piece for self-guided tours.
This year they were a little slow to announce the venues this year so we're only in one building but it's a doozy.  Built in 1897, The Forum is home to the oldest assembly and social hall in Bronzeville and contains what may be the oldest hardwood dance floor in Chicago. This imposing red brick building was an epicenter of the "Black Metropolis", the "city-within-a-city" created by African Americans to provide the retail and social needs they were barred from accessing within the rest of Chicago.
The Forum hosted leading performers, prominent social events, and some of the era's most important union meetings and political assemblies, while providing a wide range of hospitality and retail amenities. After remaining vacant for nearly 30 years, The Forum was narrowly saved from city-ordered demolition a few years back by a team of neighborhood residents.  It's now a city landmark and we are thrilled to be a small part of its illustrious history.
Music by Trevor Patrick Watkin
Saturday, October 19 12:00 – 3:00
324 E. 43rd St.
Free