News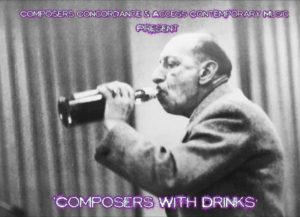 ACM is teaming up with Composers Concordance for a fun masterclass with Austrian ensemble Hi5. Each composer will write a short, really short, piece for guitar, bass, vibes and drums and the ensemble will sight read and discuss.
And as you can probably tell from the title, there will be drinks!  I've never written for this combination of instruments before, it was super fun.  That photo is of Igor Stravinsky taking a swig of scotch which apparently he never left the house without.
I wrote a piece called Gimlet which I believe is some kind of mixed drink.
Friday April 12th
from 6:30pm to 9pm
Michiko Studios – Stage 1
149 West 46th Street
New York, NY 10036
Free