News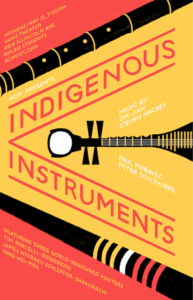 ACM's last "Live at the Davis" concert of the season features exciting music combining Western instruments with indigenous instruments from around the world. My idea was to start with Steven Mackey's piece Indigenous Instruments and then combine it with three works that mix string quartet with actual indigenous instruments.  This is going to be a great concert!
Peter Sculthorpe's From Ubirr asks us to attune ourselves to the planet, to listen to the cry of the earth as the Aborigines have done for many thousands of years. Scored for didgeridoo and string quartet, its four parts are made up of quick, ritualistic music framed by beautiful slower music of a supplicatory nature.
Pulitzer Prize-winning composer Paul Moravec's masterful Shakuhachi Quintet combines Japanese traditional music with sophisticated Western harmonies to create effervescent, lyrical music
Steven Mackey says of his piece Indigenous Instruments that it's " vernacular music from a culture that doesn't actually exist. I fantasized about a culture and their uses for music, did thought experiments to invent the kind of instruments they might play, and wrote "folk melodies" idiomatic to those instruments."
Celebrated Chinese composer Zhu Jian-Er's Jade for pipa and string quartet is an elegant piece inspired by China's distant past.