News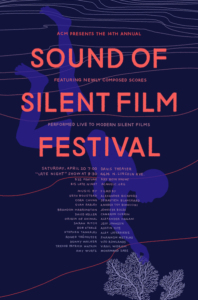 In 2005 I had the idea to commission some composers to write new scores for modern silent films and play the music live to the films at the Chopin theater. The event sold out and I've been stuck producing it every year since.
Over the last fourteen years we've screened more than a hundred films with live scores, we've moved to an all-submission basis, gained a wonderful film review panel to help us choose the films, toured the show to Mexico City, Austin and New York and we're in the process of licensing it for performances around the country. We even have a laurel now like a real film festival!
This year we've got two shows, our feature presentation which is the slick we've honed this over fourteen years version and a late show in which we try something new. This year we've partnered with art-rock band Origin of Animal for the late show. Both shows will be fantastic and will likely sell out.
April 20, 7:00 and 9:30
Davis Theater
4614 N. Lincoln Ave.
$25, $15 or $35 for both shows