News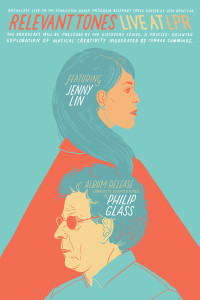 My new live broadcast series at Manhattan's famed venue Le Poisson Rouge begins on Wednesday, January 31!  We'll kick it off with a fabulous concert featuring pianist Jenny Lin playing selections from her upcoming album release The Complete Piano Etudes of Philip Glass.
This will be Philip's 81st birthday, and Jenny's birthday as well coincidentally, and she'll be playing live on my radio program Relevant Tones which is celebrating its sixth anniversary in January so it's birthdays all around.
In addition to the live syndicated radio broadcast we'll also be live streaming to a huge coalition of Facebook pages. Yay, the future!
The show is January 31st at 7:00 at LPR.