News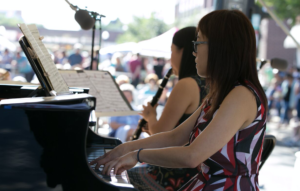 I'm thrilled to be producing the third annual Thirsty Ears Festival on August 11 and 12.  Thirsty Ears features two days of stellar classical music performances, craft beer from Empirical Brewing, food trucks, vendor booths and kid-friendly activities.
Thirsty Ears takes place on Wilson Ave. between Hermitage and Ravenswood, not coincidentally in front of the ACM School of Music. We're also doing a special Sound of Silent Film Festival on the street at sundown on Saturday night.
There is a $10 suggested donation, any proceeds benefit the ACM School of Music.
Complete schedule here!