Blog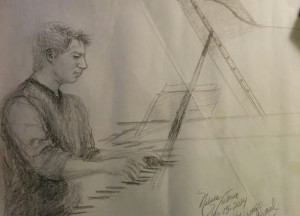 I got a nice treat after my solo concert yesterday at the Chicago Cultural Center, a woman came up to me and gave me a drawing she had done of me playing!  She did a nice job with it.  I especially like how she converged two perspectives so you get the side angle of the piano where she was sitting but you also get the view of the keys superimposed over it.
The concert went very well, there were over 150 people in attendance which is incredible for a Monday afternoon and I felt pretty good about my playing although like any artist I can be pretty nit-picky.  But sometimes you have to just relax that self critical thing and enjoy a success and it was definitely a success.
And I have such a wonderful memento of my first solo concert now too.
News
Sound of Silent Film is April 30 and May 1

'Dreaming Grand Avenue' Film Premiere September 23rd

September 23rd

7:00 PM

Sound of Silent Film Festival Virtual Presentation