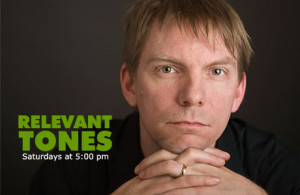 It was mid-August and I had just come through another exhilarating but exhausting Thirsty Ears Festival but couldn't rest just yet as Maria and I were putting our condo on the market and I had to spend the Monday after the fest cleaning and schlepping.
I wore old jeans and my most comfortable T-shirt for this task and didn't bother to change when I went to WFMT later in the afternoon for a meeting and so it was a fun irony that I was wearing my WFMT shirt as I was told that Relevant Tones had been canceled and apparently had been canceled for some time and I was one of the last people to know.
My feelings about this have been complex.  I got into radio by accident in 2006.  I was giving a talk at the Chicago Cultural Center and someone came up to me afterward and said that I should be in radio.  I was like yeah that sounds great and he said, no I run a radio station and I'm offering you a show.
That was Craig Kois who was the head of WLUW at the time and I started a show called Relevant Tones that aired on Sundays at 6:00 PM. My show aired after a three-hour show of Latin music hosted by a guy named Gustavo who always spoke Spanish to me even though my Spanish was terrible back then. "Quieres grabar?" he would ask as I walked in.  Do you want to record?  Sadly I never recorded the show in those days and now don't have those archives.
After my show was Labor Express, hosted by a guy named Jerry who was the calmest, nicest guy in the world off air and a ranting maniac on air.  His show was about socialism and it always started with a protest song which he'd fade down whilst taking in a huge lungful of air, wait a tick, and then let rip.  "WELL THEY'RE AT IT AGAIN, DEFRAUDING THE WORKER OF HIS HARD-EARNED DUES."  I always hung around to hear the first few minutes and then listened to the rest in my car driving home.
Relevant Tones in those days was always live, I didn't have a producer, I just brought in CDs or had guests and basically played whatever I was listening to at the time.  There was no thought of a broader mission or of serving the contemporary music community at that time, it was just me talking about and sharing music on my radar including my own music which is always on my radar.
In 2009 I met Jesse McQuarters when he played bass on a piece of mine called Sawtooth Hammer.  The concert was at the historic Green Mill tavern and over drinks afterward we talked about how cool it would be to get Relevant Tones on WFMT.  Jesse was a producer on WFMT's flagship show Exploring Music and we met numerous times over the next year or so.
The station was open to the idea of a contemporary music show but we were told we'd have to personally raise $100,000 to get it on the air which just wasn't going to happen.  Meanwhile Jesse and I made seven pilot shows and WFMT aired them and they were unexpectedly popular. The station agreed to re-air them while we tried to raise funds.  They ran for 21 weeks and nothing happened and that would have been that except for a fortuitous lunch meeting in which my friend Janet introduced me to Greg Cameron who was the COO for the parent company of WFMT and its sister television station WTTW.
Greg was very interested in all things contemporary and the next several months were a whirlwind.  He raised the money we needed, he put me on the cover of the WTTW magazine and I was on Chicago Tonight talking about contemporary classical music.  We had a glitzy launch party and he was talking about making contemporary music a station-wide focus in the wake of their sixtieth anniversary.  A year later we syndicated nationally and were on thirty-ish stations around the country and we got a big grant from the NEA.  It felt like we couldn't lose.
But then I developed a raging addiction to cocaine, became impossible to work with and even got into a fistfight with Bill Murray.  Oh no wait, that's Chevy Chase, I was cool. I kept my head down and over the last seven years I worked with three producers to make two hundred and sixty episodes.  We won the ASCAP Deems Taylor award, traveled to twenty some-odd countries, interviewed dozens and dozens of composers and performers, did live events from National Sawdust, Le Poisson Rouge and Lincoln Center and created a body of work that I'm very proud of.
That said, I'm not entirely upset to be giving it up.  Making a weekly produced radio show has been a lot more time-consuming than I ever realized it would be and it has definitely negatively affected my productivity as a composer.  As Relevant Tones comes to an end I find myself feeling nostalgic for the show and I'm disappointed that it's being canceled. It's impossible not to feel that WFMT is rejecting me personally and, even though I know that's not true, it still hurts.
But at the same time I find myself suddenly awash in composing opportunities and I have no idea how I would have the time to write all this music if I was constantly having to research new shows, record promos, interview guests, keep up with the never-ending glut of emails, and of course record the actual shows.
Growing up if I ever said something negative my mom would say "cancel transmute" which was something she read in one of her spirituality books.  It meant to cancel the negative thought and turn it into something good.  Although I have no negative feelings for WFMT and in fact still revere it as the legendary institution it is, I can't help but think of that expression. It's time to transmute.  I'm no longer a radio host but at the same time I no longer have something convenient to hide behind and use as an excuse not to pursue composing with all of my heart.
I've included a short list of my upcoming compositional projects below.  I'm really excited to jump into them with everything I have