Back in 2001 there was a big brou-ha-ha about gentrification in Chicago's Wicker Park neighborhood that I still remember clearly.  I myself rarely went to Wicker Park because as early as 1995 I was told that it was "over" by someone I held in high esteem and why would I go to a neighborhood that was over?  I'm a happening guy and I need to be where the action is.
Anyway, Wicker Park had been gentrifying since at least the seventies but suddenly there were protests and a small but very vocal group of people were mad as hell and weren't going to take it anymore. The cause of this ruckus?
MTV had opted to shoot the eleventh season of their hit show the Real World in Chicago and they chose the Wicker Park neighborhood which was bad enough but, heaping insult upon injury, they chose to bring this abomination of a show to the building that once housed the Urbis Orbis Cafe and the last few hipsters remaining in Wicker Park were incensed.
Urbis Orbis was the kind of coffee shop that Thomas Pynchon probably would have felt comfortable writing something like the Crying of Lot 49 in.  Not Mason & Dixon, nothing that heavy but definitely Crying of Lot 49 or Inherent Vice or something. Maybe Bleeding Edge…
Anyway, Urbis Orbis was a Pynchon-esque hipster coffee shop where magic happened over midday lattes.  Bands were formed, art festivals created, the relative merits of post-punk hotly debated. You know the kind of place. But they were a victim of their own success. The rent went up and Urbis Orbis closed its doors forever.
Now MTV comes in with its fresh-faced kids to film their reality show here? On hallowed ground?  There were huge protests. People stood outside with bullhorns and shouted for the cast to leave town immediately. It was chaos.
But all these years later I learned something interesting about that movement.  It was faked.  Yeah.  See, the planners of those "protests" were rightly worried that no one would show up and so they decided to trick people into coming.
They printed up fliers advertising the chance to audition for the show at the time of their planned protest.  Most of the people at the protest were not against the show, they wanted to be on it.  Once the protest started they stuck around to see what was happening and many of them made it on the nightly news.
I uncovered this underhanded deception the old fashioned way: by getting a grant from the Wicker Park Chamber of Commerce to make an audio walking tour called Sonic Walkabout that combines narrative storytelling with commissioned music.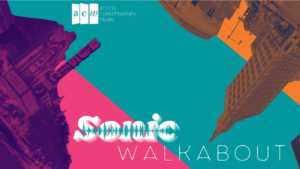 We chose eight sites in all and I wrote music for two of them: the aforementioned Real World site and Quimby's Bookstore, purveyor of unusual publications, aberrant periodicals, saucy comic booklets and assorted fancies, for whom I wrote a heroic anthem because, you know, comic shop.
After the brou-ha-ha half the Real World cast broke up with each other and they stopped the show and the building sat empty and then became a Cheetah Gym for years and years and now is empty again.
For my piece I was thinking of the fake media circus and of gentrification itself and how for better or worse once it starts it's hard to stop.  It's just a minute long because I know we've all got important things to do. It's scored for flute, alto sax, cello and piano.
I found the image below on the internet.  Seems that lots of folks still remember the protests.  Click on it to listen to the piece!