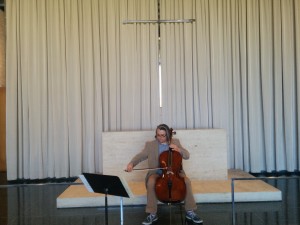 That's my friend William Jason Raynovich performing music by Edinburgh composer Katrina Burton at the Robert Carr Memorial Chapel as part of Open House Chicago.
For the last four years ACM has worked with Open House to commission composers to write music for several of the spaces and then put musicians in the spaces to perform the music.  It's become one of our signature events, it's highly successful and it's always a great time.
As every year I went to all of the sites with music with the ACM A/V team recording and filming the pieces for video documentation.  This is always such a fun day as we rush from site to site, meet new people and enjoy the other ancillary Open House events.
For example this year on the football field at IIT, just a block north of the Carr Chapel, the engineering students were having their annual pumpkin launch competition.  They design and build their own catapults and then try them out in a competition.  While none of them worked super well, it was still a blast watching them work their crazy contraptions.