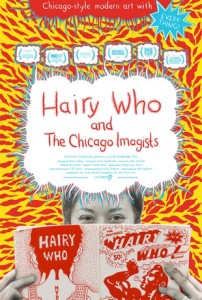 Last month at a concert by the Pilgrim Chamber Players in which my string quartet was performed, I met a delightful couple at the reception and they were very complimentary of my piece, which naturally I always enjoy.  As it turns out they were not just your average appreciators of rocking good string quartets, they are art collectors and focus particularly on the Chicago Imagists who I had never heard of but am now convinced are to play an interesting role in my artistic life.
I'm a big believer in fate and there are several things about these artists and how I came to hear about them that has me convinced that this meeting was fated to happen.  For one thing I am a composer is frequently inspired by visual art and who has written many pieces inspired by paintings and prints.
For another, the name of this movement, Hairy Who, came as a reaction to critic Harry Bouras who said that Chicago didn't have any important artists.  Bouras was the critic for WFMT where I am a radio host.
And thirdly the art is my kind of art: visceral, uncensored, absolutely real.  These artists weren't thinking about fame, they were simply making what they wanted to make and not being obsessed with fame meant they had the freedom to do whatever they want.
Now, after watching the Hairy Who movie, which I highly recommend, I am racking my brains to think of a project that involves musical pairings with some of this art in a way that is respectful to the art and that makes sense musically.  I know it will come to me, I expect this to be my next big project.  More on that as soon as the right idea comes my way!