Blog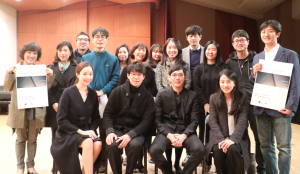 For years I've described ACM as a global organization, a network of composers, performers, audience members and students.
We're not quite to the level that I want to be at but tonight we took a major leap forward.  ACM composer members from the U.S., South Africa, Scotland and Germany had pieces performed in Seoul.
On November 6 ACM's resident ensemble Palomar will perform works by Korean composers at the International House at the University of Chicago. This is the beginning of what I hope will be a continuing, fruitful cross-cultural exchange of music.
Videos will be posted from both concerts very soon!
News
Sound of Silent Film is April 30 and May 1

'Dreaming Grand Avenue' Film Premiere September 23rd

September 23rd

7:00 PM

Sound of Silent Film Festival Virtual Presentation