Blog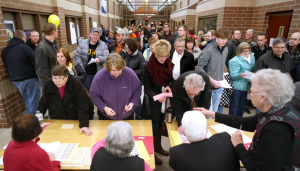 It's an exciting night tonight as many Iowans head to the polls as the first in the nation to cast their votes or, in election parlance, to caucus, which is an Algonquin word that translates roughly to "let the right one in."
Although there is some cause for alarm, what with a socialist running and all, I do think it's worth remembering that the results in Iowa rarely mean anything in the long run.
Mike Huckabee won the thing for the Republicans last time after all and, well, that just wasn't going to happen.  Although at least he actually has some experience with governing.  And he plays bass in a rock band which is kind of cool although it does have the unfortunate name Capitol Offense.
I mean who names their rock band after a crime punishable by death? That's just not a good idea.  What if their albums are criminally bad as in fact many of the good folks in the comments section of Youtube seem to think.
After some listening, however, I would argue that their version of Freebird is pretty dang good.  That it is in fact definitive.
News
'Sawtooth Hammer' Performance on August 15th

Sound of Silent Film is April 30 and May 1

'Dreaming Grand Avenue' Film Premiere September 23rd

September 23rd

7:00 PM