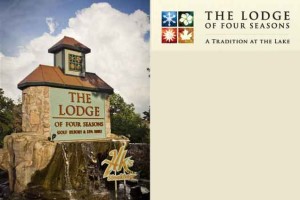 My first summer out of high school I decided that I should get some life experience before starting college and so I decided to move to the Lake of the Ozarks and go to work at a resort called the Lodge of the Four Seasons.
It was 1989 and I had some vague idea that it would be like Dirty Dancing and I'd meet some hot older ladies, spend a lot of time around a pool drinking exotic cocktails, I don't know what else, maybe learn to dance?
Unfortunately it wasn't like that at all.  They put me to work as a linen runner restocking cabinets with sheets and pillow cases and things and getting yelled at all day by scary chain smoking maids who kept asking me if I was an idiot or something.
Worse, a linen runner had no status, none whatsoever.  I wasn't even allowed to enter the pool area, much less lounge by it whilst savoring a tropical cocktail.  All around me I saw people enjoying themselves and having a great time while I was stuck with a guy who, upon opening a linen cabinet and finding it empty would play air guitar and sing the words Bare to the Bone, apparently a reference to that idiotic George Thorogood song.
He would literally do this with every empty cabinet and, as our job was to fill the cabinets, they were all empty.  It was intolerable. I can't remember his name now but the scariest day of all came as he was taking me around the Lodge in the little cart they let us drive and he told me that I would "make it" as a linen runner.  This was apparently a compliment.
I quit the next day and went to work at a tie dye shop and spent the rest of the summer tie dying socks while talking to my co-worker Leann about her obsession, Led Zeppelin.  She had just read Hammer of the Gods, a sensationalized, mostly fictional account of the band's exploits on tour.
We would line up long rows of pristine, rubber-banded white socks and gently pour colored dyes on them, watching them soak in and blend while she talked about the crazy thing that the band did with a dead shark.  Summer ran out before she ran out of Led Zeppelin stories.
People will tell you that summer is running out now but don't believe them!  We still have until September 21 dammit.