Blog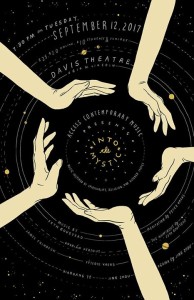 ACM's first Chicago concert of the season is the musical culmination of a lifelong fascination with comparative religion, spirituality, and altered states of consciousness and I'm so excited about it.
We'll perform music inspired by Tibetan Buddhism, sacred spaces in Australia, the Christian mystical tradition, a hallucinogenic mushroom trip and my piece The Numinous inspired by C.G. Jung's concept of mythical archetypes.
I first got into Jung when I was still in high school. I was obsessively reading Joseph Campbell and he seemed to be obsessed with Jung and I thought, the obsession of my obsession must be worth obsessing about.  And it was!  I almost never think of anything now in less than mythic terms which, while it makes life interesting,  does have a downside or two.
At any rate, this concert is happening in our new venue, the recently restored Davis Theater in Lincoln Square, a gorgeous movie theater with adjoining bar and restaurant.  And, as if that weren't enough, this concert also includes the first installment of our new Composer Alive collaboration with David Smooke.
David is writing a short piece in installments called Mechanical Birds and I'm very excited to hear the first couple minutes of it.
News
Sound of Silent Film is April 30 and May 1

'Dreaming Grand Avenue' Film Premiere September 23rd

September 23rd

7:00 PM

Sound of Silent Film Festival Virtual Presentation