Blog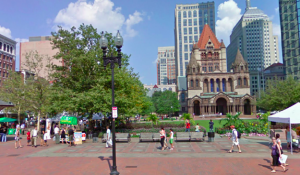 What do you suppose is the approximate age where we tip over into nostalgia, where we can't go anywhere without thinking obsessively about the last time we were there?  I'm thinking about this because I'm in Boston today for a speaking gig at the New England Conservatory of Music but everywhere I go the ghosts of the last time I was here crowd my mind.
At the time I had only been in Chicago for a couple of years and my mom was living in Augusta, Maine.  During the summer she suggested that my sister, who still lived in Missouri, and I come to Maine and we would spend a week at the Old Orchard beach which turned out to be one of the happiest times I ever spent with my family.
At the time I was working as a "job recruiter" at a place called Adlab. Our job was to pre-screen applicants for major companies and weed out the crazies. The phone would ring and I would answer, "thank you for calling Target" or perhaps Fidelity Investments or whatever the company was. Then I would lead the applicant through a series of brain dead questions that a surprisingly high number of people would get wrong. If they missed too many we would "flush" them by hitting F7.
The great thing about Adlab, aside from the stimulating conversations, was the flexible hours so I decided to stay another couple of days after my sister left and my mom and I drove to Boston for two nights.  The first night we had dinner at the Fairmont Hotel on Copley Square and it's one of the happiest memories I have of my mother.
For once our conversation seemed natural, not strained or full of real or imagined recriminations. The restaurant was elegant and there was a wonderful pianist and I felt like such a grownup sitting there casually drinking wine with my mother.
So of course I made a beeline to the hotel to drink a toast to that night but, unsurprisingly after so many years, they've completely remodeled it.  The beautiful ceiling is still there but they've installed a ton of TVs and the piano has been replaced by piped-in dance music and they don't even serve dinner anymore, just upscale bar food.
It was very crowded though and I doubt that anyone noticed the guy standing by himself in the corner silently drinking a glass of wine in homage to a long-ago night.
News
Sound of Silent Film is April 30 and May 1

'Dreaming Grand Avenue' Film Premiere September 23rd

September 23rd

7:00 PM

Sound of Silent Film Festival Virtual Presentation