Blog
Chicago, like many cities with brutal winters, tends to try to make the most of summer. In a normal summer there are hundreds of street festivals throughout the city celebrating a wide array of things from a national independence day, to a centuries-old cultural tradition, to eating hotdogs in the sun until you puke.
With no street closure permits being offered this year though, it was an eerie summer in Chicago.
I myself got into the street festival game five years ago when ACM launched the Thirsty Ears Festival, a street fest dedicated to classical music. Every August we closed the street in front of our music school for two days of live music, craft beer, food trucks, vendors and kid-friendly activities.
Of all of our events this was the most difficult to reimagine to fit current circumstances.  I mean what are we going to do, give a virtual presentation of previous year's performances with tons of shots of people enjoying themselves in close contact without masks?  Cruel at best.
No, we needed something different.  Something that showcased the creativity of modern composers and celebrated our community at the same time. The answer was to relaunch the event as a hybrid audio walking tour featuring commissioned music combined with limited live performances in a private parking lot that didn't require a city permit.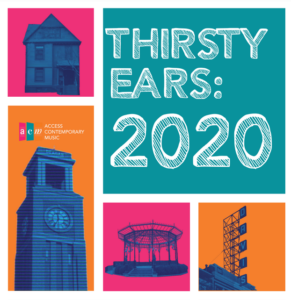 We worked with the Ravenswood Historical Society to choose ten cultural and historic sites in the neighborhood and then asked composers to write short pieces inspired by them.  We got people connected with each site to record a narrative and paired the narratives with the pieces and I was amazed at what I learned.
For example…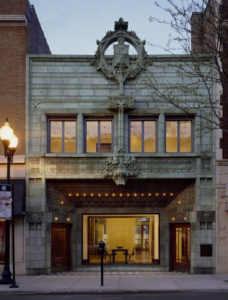 I've walked by this building hundreds of times. I always thought it was cool and I knew that Louis Sullivan was one of the architects but…
I didn't know that Sullivan, who is regarded as the father of the skyscraper and is still known for his mantra of "form follows function," was seriously down on his luck when he designed this building.
He was completely broke, living in a men's hotel and drinking nonstop day and night.  He got this commission for a music store that sold pianos, sheet music and radios and pulled it together long enough to whip out this masterpiece and then died soon after.
William Krause, who commissioned him, only got to enjoy the building for two years before the Depression hit and, despondent, he killed himself in the upstairs apartment.  On the right kind of night you can still see his shadow through the window stalking back and forth restlessly.
I'm very happy with how the audio tour turned out.
Download the Gesso app from the Play or Apple store, go to passcode in the left side menu and enter "thirsty" to check it out
News
'Sawtooth Hammer' Performance on August 15th

Sound of Silent Film is April 30 and May 1

'Dreaming Grand Avenue' Film Premiere September 23rd

September 23rd

7:00 PM