Blog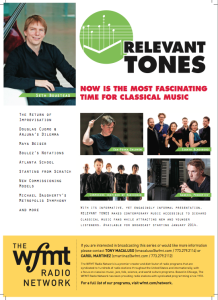 The national conference for classical radio station program directors, PRPD, is coming up quick and I'm proud to say that WFMT will be pushing the national syndication of Relevant Tones hard there.  We've created an ad, pictured above, that I think really says what we're trying to do and we're having a lot of conversations about exactly what the brand identity of the show is.  If you tell program directors that it's a contemporary music show you're going to pretty much turn them off immediately so instead we talk about the continuing tradition or presenting classical music as a living tradition.
I had a long conversation with our syndication team yesterday about the brand for the show and what their talking points should be, but by the end we decided that actually the ad says it all.  I like the statement that now is the most fascinating time for classical music.  It's bold, it's something that I believe with all my heart, and most importantly for an ad, it gets the attention.  But again, I do believe it.  As wonderful as the golden era of classical music was it was really a handful of men in five or six countries.  But these days we're hearing from men and women in virtually every country on the planet
As we develop the brand identity for the show I believe that will always be the tagline.  Although it's hard to read on the small image above, I also like the copy at the bottom, "with its informed but informal presentation…"  This has always been important to me: to know what you're talking about and come across as knowledgable without sounding like everyone's least favorite professor.  The things happening in classical music are exciting and they should sound that way!   The ad says too that we're "making contemporary music accessible to diehard classical music fans while attracting new and younger listeners." I think that's true, that we're walking that fine line of not alienating people in the know while bringing in new people and I hope that we're getting mainstream classical music fans to give contemporary music another chance.
So we're focussing on now but we're relating it back to the classical music tradition as a whole, we're working to define what the classical music tradition means in this day and age and we're doing it all in a friendly and engaging manner.  Or at least we hope that we are.  In the next couple of weeks I'll hear how our team did in Atlanta, hopefully they'll come back and tell me that dozens of stations picked it up.  So far the news is good.  Before it's even officially been offered we've been picked up in Atlanta, Houston, Austin, Oklahoma City, Kalamazoo and even by Radio New Zealand.  So we're off and running and on our way to updating classical music radio and getting living composers the attention they deserve
News
Sound of Silent Film is April 30 and May 1

'Dreaming Grand Avenue' Film Premiere September 23rd

September 23rd

7:00 PM

Sound of Silent Film Festival Virtual Presentation