Blog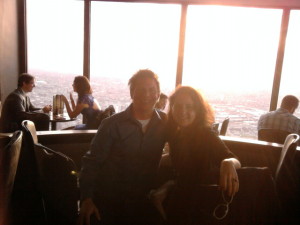 I moved to Chicago almost exactly twenty years ago and have seldom done any of the normal tourist things. I haven't been to the top of the Sears Tower for example, I haven't taken the architecture cruise (I know, I know!) and I had never been to the top of the Hancock building to have a drink at the Signature Room until yesterday but I can scratch that one off the list now. Well, I can make a list and presumably include that and then scratch it off.
Once again I find myself incredibly happy to be part of ACM's anual Composer Alive project because every year it takes me out of my normal routine and often makes me a tourist in my own city as I play host to composers from around the world.
That photo was taken as the sun was going down so it's hard to see but the city is spread below us and watching the sun go down was a magical moment that I was very happy to share with our visiting composer from Warsaw Agnieszka Stulginska.  Thanks Agnieszka for showing me how beautiful my city is.
News
'Sawtooth Hammer' Performance on August 15th

Sound of Silent Film is April 30 and May 1

'Dreaming Grand Avenue' Film Premiere September 23rd

September 23rd

7:00 PM