Blog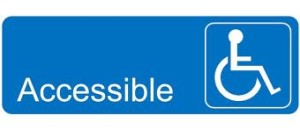 I've had a long and ambivalent history with the word accessible.  When I finished grad school in 2002 and wanted to start some kind of organization that would, well normalize contemporary classical music I suppose is the best way to think of it, I called it Accessible Contemporary Music.
At the time I had started a program called Weekly Readings that ran for 8 or so years in which I and other musicians would play through and record a piece of music by a living composer every week and post it to our website.  My thinking was that we were making ourselves accessible to the composers and, through sharing music on the web, which was in its infancy at the time, accessible to new listeners as well.
I was not prepared for the absolute shit storm that followed.  I was accused of somehow betraying contemporary music, of "dumbing it down." I was called names, sneered at and, it's not an overstatement to say, in some corners even reviled.  What a reaction!  I admit that I was taken aback by it all.  I'm not an overly academic minded person and I didn't realize that I was putting myself in the middle of a decades-old argument and, through the flagrant use of the word accessible, taking a stand that was seen as very aggressive.
Well we're now called Access Contemporary Music and we finally made the change for many reasons:
1) We have long worked with the Chicago Architecture Foundation to put music in buildings around town and to people taking these tours "accessible" meant handicap accessible.  Getting yelled at by handicap people is not what I signed up for…
2) I taught string arranging at Vandercook College, a school for music educators, and learned that to educators "accessible" means easy to play.  But the music we perform is some of the hardest music there is so this is clearly a misnomer.
3) The very composers we were formed to serve were turned off by the name and assumed that it meant we were only performing music that was accessible to audiences or somehow easy to listen to, contained no sharp edges so to speak.  Again this was far from the truth. ACM has no real aesthetic, we exist to update the popular image of what classical music is in this day and age and as such we perform music in all genres.  As long as its composed, (I have another blog entry coming soon about what I consider the essential difference between classical music and pop music.
4) Access just sounded better, more active than the passive word accessible. Also we had just rebranded and spent a lot of money on our fancy new website and so did not want to have to start from scratch. One of our board members at the time suggested access, which summed up what we're trying to do without all the negative connotations of accessible and we only had to lop off four letters from the logo.  Yay!
Over the last ten or so years I had grown to absolutely hate the word accessible.  I had sort of become known as Mr. Accessibility and it drove me crazy. If someone said the word accessible in my presence I would cover my ears and make a high pitched keening sound until they went away.  Well, perhaps I exaggerate but I didn't like it!
But now I've made my peace with the word. I say it all the time on Relevant Tones without cringing and have even tried dropping it into conversations with my colleagues and the funny thing is even they don't have the Pavlovian hate response to the word anymore either. It will never be a good word in artistic circles as most artists are trying to hard to break the mold and do something new and there's the wonderful legacy of art that was hated at first but became treasured over time.
Still there's been a real sea-change in regard to what I used to call "that word!"  You know the word, accessible.  It's funny to see it in the mission statements of new music groups now.  There it is, that word!  It used to be the ultimate bad word.  Now it's thrown around with barely a sneer. I wonder what means?
News
Sound of Silent Film is April 30 and May 1

'Dreaming Grand Avenue' Film Premiere September 23rd

September 23rd

7:00 PM

Sound of Silent Film Festival Virtual Presentation