Blog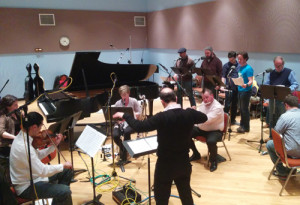 I'm typing this minutes after the end of our live broadcast of 1,001 Afternoons in Chicago: A Radio Play on Live from WFMT.  I'm so grateful to Kerry Frumkin and to Andi Lamoreaux for agreeing to let us do this, to Francesco Milioto, our incredible conductor, for keeping it all together and to the musicians of Palomar and the wonderful actors at Strawdog Theater, not to mention my good friend and director Anderson Lawfer and my composer colleague Amos Gillespie.
That's a lot of people to thank!  I feel like the oscar music should be starting up.  But seriously, this project has involved so many people and at times I never thought we'd pull it off and I was certainly  beginning to think that we'd never be able to perform it the way it was meant to be heard: live on the radio.
What an incredible joy then to sit in the Levin studio and watch three years of hard work come together and sound so beautiful and know that somewhere in the neighborhood of 25,000 people are listening.  I live for these moments!
News
'Sawtooth Hammer' Performance on August 15th

Sound of Silent Film is April 30 and May 1

'Dreaming Grand Avenue' Film Premiere September 23rd

September 23rd

7:00 PM