Blog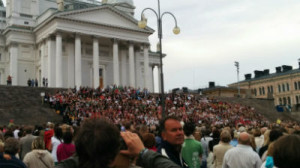 This is a photo of approximately 2,000 professional singers from choirs throughout Helsinki giving a short concert on the front steps of the most famous cathedral in the city for the opening of Art Goes Kapakka, an event featuring live music and art of all kinds in bars and restaurants throughout the city every day for the next week or so.
I've been in Helsinki now for close to a week and it's been an amazing journey.  I'm here in my capacity as host of Relevant Tones to interview Finnish composers for two shows about the music scene and the Finnish commitment to music and to a lesser extent the arts in general.
So far I've been completely blown away by everything.  The city is the perfect size, it's very easy to get around, there are happy people everywhere, I haven't seen one homeless person though I know they must exist somewhere, there is a ton of live music and a palpable commitment to the arts and everything is extremely well ordered and government corruption doesn't seem to exist which for a guy from Chicago is pretty much the same thing as if everyone walked on water.
So far for Art Goes Kappaka I've seen choirs in several bars, two musicians improvising while a comic artist drew comics live that were projected on the wall, a great folk band and an acid jazz trio that I would kill to see again.  And there's still so much left!  Once this is over the Helsinki Festival begins.  I may never go home…
News
'Sawtooth Hammer' Performance on August 15th

Sound of Silent Film is April 30 and May 1

'Dreaming Grand Avenue' Film Premiere September 23rd

September 23rd

7:00 PM