Blog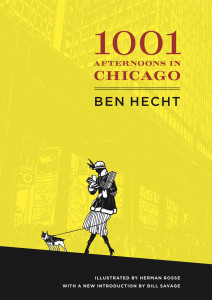 I've spent most of my musical energies over the last several years engaged in producing concerts, so much so that I have completely neglected to professionally record any of my music or anyone else's music for that matter.  Recordings just weren't part of my, and hence ACM's, focus.  Until recently that is.  I was asked to write music for Strawdog Theater's production of Kill Shakespeare, a graphic novel that they were producing as a play for projections of the comic book panes with live voices, and I went into the studio with some friends to record the themes I had written.
I remember going home that night and listening to the tracks and thinking, "this is great!  How have I not discovered how much fun recording is before?"  And I've had the bug ever since.  The next recording project was ACM's collaboration with Homeroom for the Ten x Ten project pairing ten visual artists with ten composers and now we're finally recording 1,001 Afternoons in Chicago, a project that's had a long gestation period.
1,001 Afternoons in Chicago is a famous book by Ben Hecht, a journalist in pre-prohibition Chicago who went on to become one of the most famous screenwriters in Hollywood history. The book is a collection of short stories that he wrote, to be published each weekday for one year, in the Daily News.  They consist of gritty, somewhat pessimistic but often humorous observations of city life told from the perspective of a world weary journalist who is trying to put them all together to form some kind of sweeping conclusion about humanity but of course he's never able to boil people down the way he wants to.
My friend and fellow composer Amos Gillespie and I were approached years ago by a choreographer to write music inspired by the stories for dancers and it was a great experience getting to know Hecht and working with the dance company. But I always thought we could have gone further with the project than we did. I didn't think about it again until last year when I was trying to think of a new project that would involve three of my biggest interests: music, literature and radio and I decided that revisiting the 1,001 stories but this time as a radio play for live music and voices would be the way to go.
I approached Strawdog Theater and they were very interested and Mike Daily did a wonderful job of adapting the stories and Anderson Lawfer's direction brought them to life.  We had a huge turnout for the live concert which we said was really just the kickoff of a year-long, or more, project.  Now we're working on the commercial CD and also a film version, hoping to release them both at the same time as one package and then put up a run of live shows at Strawdog.
Next week is the first recording session for the new album. I can't wait to report how it goes!
News
Sound of Silent Film is April 30 and May 1

'Dreaming Grand Avenue' Film Premiere September 23rd

September 23rd

7:00 PM

Sound of Silent Film Festival Virtual Presentation