Blog
Years ago my Relevant Tones producer Jesse and I were in Helsinki for a couple of weeks interviewing composers, going to concerts and generally checking out the amazing music scene there.
Finland had long had a thriving music scene but after they were able to take advantage of the Bolshevik revolution in 1917 to gain independence from Russia and while they were still searching for a national identity, a young graduate from the Helsinki Conservatory of Music named Jean Sibelius wrote a series of pieces incorporating Finnish folk songs that became so popular that classical music became an "inextricable part of the Finnish psyche," according to his biographer.
I've always found it fascinating to see how what a society chooses to spend its resources on shapes the people who live there.  In the case of Finland they put enormous resources into music education and the results are amazing.
Finnish people are genuinely interested to hear concerts, often quite long, of new music.  Classical concerts are still broadcast on national television and an astonishingly high percentage of the population can play a musical instrument. And don't get me started on the Heavy Metal scene there.
The entire trip was amazing but I have two favorite moments.  One was interviewing composer Einojuhani Rautavaara in his home.  Rautavaara was the last living link to Sibelius with whom he studied, and at that time he had recently had a stroke that made it very difficult for him to speak.  No one could believe he agreed to do a radio interview but he did and it was one of the absolute highlights of the Finland shows and of the show in general.
The other memory was actually of leaving Helsinki for a day trip to Estonia to visit the Arvo Pärt Center.  Arvo Pärt is one of the proponents of Mystical Minimalism and is said to be the most-performed living composer.  We had a great time at the center but the memory that sticks with me is being on the boat and getting my first glimpse of Tallinn.
It was a cloudy late summer day.  We were talking and I hadn't noticed how close we were getting as it's not a long boat ride.  I looked up and saw this postcard perfect town that must have looked exactly the same for a thousand years or more.  It was absolutely magical. Of course you get there and there's a McDonald's in the main town square and some of the luster comes off but that view of the town from the harbor is unforgettable.
Tonight I get to relive that experience in music.  I was asked to contribute a piece to the Composers Concordance's Estonian Connections concert and I wrote a work for two flutes, bassoon, electric guitar and bass called Clouds Over Tallinn. I tried to capture the pastel colors of the buildings, the muted quality of the cloud-diffused light and the timelessness of the architecture.  I'll post the recording next month.
In the meantime here's a photo of Tallinn from the water.  That's the boatline we traveled on, might even be the same boat…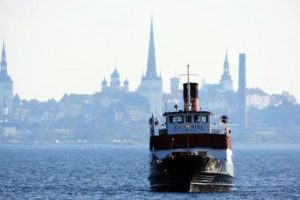 News
'Sawtooth Hammer' Performance on August 15th

Sound of Silent Film is April 30 and May 1

'Dreaming Grand Avenue' Film Premiere September 23rd

September 23rd

7:00 PM