Blog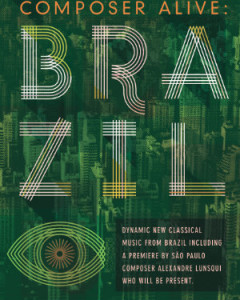 Tomorrow night is the culmination of ACM's Composer Alive: Brazil project.  It's hard to believe that we've been doing this project since 2006 when we commissioned a piece from Beijing composer Xiaogang Ye.  Every year since we've worked with a composer in a different country, except for 2013 when we took a break from the international idea and worked with NYC composer and sound artist Ben Vida.
The idea has always been that the composer writes the new piece in installments and sends them to us and we record each one in front of a live audience. In the past this was an easy thing to do: we would give the open rehearsal/recording sessions in city venues like the Chicago Cultural Center but there have been a lot of changes with the city and this is harder to do now.
So this year we rethought the project somewhat and snuck the installment recordings onto our regular concert season. It was fun to unveil the new piece a couple of minutes at a time and I do think that it built a lot of interest for tomorrow's concert.  This year we worked with a composer in Sao Paolo named Alexandre Lunsqui and he wrote a wonderful new piece called Toy.
Alex got the idea after watching his nephew play with a toy and he realized that what a child will do with a toy is completely unpredictable, at least to an adult.  He had the idea to write a piece in which the ensemble is his toy.  He could play a game with it or just throw it against the wall.  The resulting piece shows this with extreme gestures, complex but fun rhythms and a sense of never knowing what will come next.
Tomorrow is the World Premiere of the new piece on ACM's fourth concert of the season and I'm very excited for it.  As per our custom we brought the composer to Chicago to be present so I met Alex last night, had dinner with him and watched him coach the ensemble on his piece.  He's a great guy and perfect for this project in which we really try to demystify the creative process and let an audience hear the installments, from the first draft, through the rewrites, to the finished piece.
I'll post video of the concert as soon as I get it!
News
'Sawtooth Hammer' Performance on August 15th

Sound of Silent Film is April 30 and May 1

'Dreaming Grand Avenue' Film Premiere September 23rd

September 23rd

7:00 PM