Blog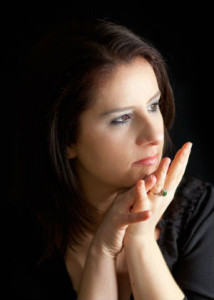 I'm thrilled that Access Contemporary Music has chosen Warsaw composer Agnieszka Stulginska as the next recipient of our Composer Alive commission.
Composer Alive is one of my favorite projects.  I had the idea years ago when I was in Washington D.C. visiting the National Gallery and there was a huge, beautiful oil painting by John Singer Sargent (wish I could remember which one but it was a long time ago.)
On the opposite wall from the painting were about six sketches he had done in preparation for the actual work and it was an incredible insight into his creative process.  I knew right away that I wanted to do try and do something similar with music.  Years later, after I had started Access Contemporary Music, I was able to do just that with our Composer Alive project.
We ask a composer in a different region from us to write a new piece in three to four installments and to email each installment as its written.  Members of our Palomar ensemble then get together and rehearse and record each installment in front of a live audience and we post the audio to our website with comments from the composer about her creative process.
Not only is this an incredible thing for the composer to be able to take risks and try anything, knowing she can always change it in the next installment, but it's a great inroad for the audience to hear the piece from first draft, through rewrites, to the finished product and read the composer's thoughts along the way.
I recently traveled to Wroclaw Poland for a trip with WFMT and was very inspired by the commitment to contemporary music there. I decided right away that the next composer for this project would come from Poland. Thanks to help from the Polish Ministry of Culture we were able to listen to pieces by about a hundred composers and we decided that Agnieszka Stulginska would be perfect for the project.
Her music is colorful, inventive, rhythmically interesting and frequently uses extended techniques or electronics to create stunning new timbres and, best of all, she's thrilled about the process of working in installments.  She's planning to take full advantage of writing the piece this way and we are all very excited to hear what she comes up with.
We'll receive a new installment each month from January to March 2015 and record them in salon-style settings in private homes.  If you'd like to attend one of the rehearsals, check here for the full schedule.   Every year when the new installment arrives in my email inbox I feel like a kid in a candy shop.  This is going to be so much fun!
News
Seth & Gene's Live Score Movie Horror Show

'Three for Zhou B' Performance October 10

ACM Hits Doors Open Milwaukee on September 22nd

'Vanishing City' at Lincoln Center on September 20

'Songs About Buildings and Moods' is Monday, September 10

'Thirsty Ears,' Chicago's Only Classical Music Street Fest is August 11 and 12

8/11 and 8/12

1:00 - 9:00

Concept Lab At Cornelia Street Cafe

8/26/2018

6:00 PM

$10

Grant Park Music Festival Lectures