Blog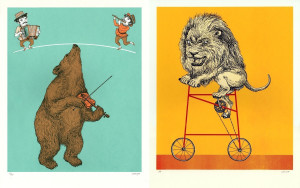 I recently discovered the incredible art of Sanya Glisic because I'm part of called "Paintings Composed" pairing up musicians with visual artists.  Although not one of the works that I chose, the print here, "Zodiac" is a pretty representative sample of her work.
My friend Amos Gillespie's quartet will be performing the music and Amos sent me the work of several artists to decide who I would set to music. I found Sanya and didn't go any further.  Her work is vibrant, complex, visually stunning and the kind of art you could discuss with your smartest friend for hours. The first thing I did was keep a kind of journal about the my thoughts on the works.
The next three blog entries are from my journal about her work.
News
'Adrift' to be Performed at Concept Lab December 16

Open House Chicago is October 13

Seth & Gene's Live Score Movie Horror Show

'Three for Zhou B' Performance October 10

ACM Hits Doors Open Milwaukee on September 22nd

'Vanishing City' at Lincoln Center on September 20

'Songs About Buildings and Moods' is Monday, September 10

'Thirsty Ears,' Chicago's Only Classical Music Street Fest is August 11 and 12

8/11 and 8/12

1:00 - 9:00