Blog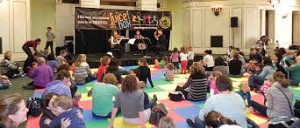 This Friday and Saturday I'll team up with cellist David Keller to play two concerts of music for kids at the Chicago Cultural Center and the Garfield Park Conservatory and I'm really excited about it.  The series is described by the city as "Chicago's best music, dance and theater in a kid-friendly setting. A free series of cutting-edge performances, Juicebox is geared to toddlers but is engaging for the whole family."
I think they've toned down the cutting-edge part of it a bit but it's still pretty cool.  When I was first approached about it a year ago I was told that it was a series of experimental and improvisational music for kids.  The idea was that they don't have any preset notions of what sounds good and what doesn't sound good and so would be open to any kind of music if it were presented in a fun setting.
But as I was told this time, the kids definitely respond better to "rhythmic" music.  So perhaps they don't care about tonal versus non tonal but, like most people on the planet, they want a good beat.  So, I've changed what I was planning to do somewhat.  I still think it will be fun to play inside the piano and to invite them up to look inside and I'm still going to play some fairly "out there" selections but we'll also do kid-friendly classics like The Swan by Saint-Saens and some of the Mendelssohn Songs Without Words.
I love the idea of having the kids tell us what they think the songs would be about, or what the words might be if there were words. Then we'll play our original music of course, a couple of blues and jazz numbers and maybe an improvisation or two.  It should be fun!
News
'Sawtooth Hammer' Performance on August 15th

Sound of Silent Film is April 30 and May 1

'Dreaming Grand Avenue' Film Premiere September 23rd

September 23rd

7:00 PM