Blog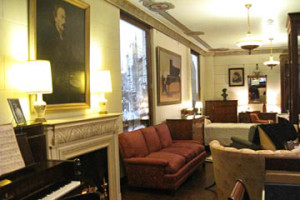 I recently was given a tour of the Polish American Museum in Chicago and I was stunned at the beauty and rich diversity of the art on display.  The paintings exhibit an enormous range of style, from Impressionism to Modernism, Pointillism to Expressionism, nearly every "ism" I could think of.
But for me personally the biggest thrill was by far the Paderewski room.  In the photo above you can see an exact replica of his hotel room in New York when he lived there right down to a cigarette in the ashtray that looks he just put it out.
When I was taking piano lessons as an undergraduate, my teacher would only let me buy editions of Chopin that had been edited by Paderewski.  Only he understood Chopin's music and was fit to be its editor.  Because of this I always had a vague impression that he was probably a brilliant pianist but best known as an editor.
What a revelation then to discover the real Ignacy Paderewski some twenty years later in a museum on Milwaukee Avenue!
What an incredible guy!  A brilliant pianist and statesman with larger than life charisma who was literally a living legend.  He was Prime Minister of Poland and signed the Treaty of Versailles on behalf of Poland after World War I, he was an outspoken proponent of Polish independence and represented Poland at the Paris Peace Conference in 1919 and the list just goes on from there.
I'm really enthralled by the idea of the artist statesman like Paderewski or Vaclav Havel.  Paderewski, unlike the vast majority of politicians it seems to me, absolutely had the best interests of Poland at heart.  And he was a brilliant pianist.  I'm so glad that I finally got to know him.
News
Sound of Silent Film is April 30 and May 1

'Dreaming Grand Avenue' Film Premiere September 23rd

September 23rd

7:00 PM

Sound of Silent Film Festival Virtual Presentation