Blog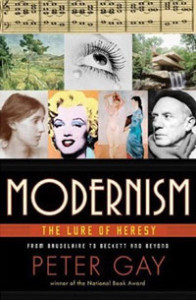 Just finished reading Peter Gay's history of modernism and it's a great read.  He does an amazing job of distilling a very complicated subject into a readable book that mostly makes sense.  But my intention is not to review his book but to voice a complaint.  And that is, let's just shut up about modernism already!
I'm so tired of hearing modernist this and post-modernist that.  The original idea of the modernists was to stop basing architecture, poetry, art, music, etc. on classical models that came from the Greeks and Romans.  Well I think we've succeeded at that.  I don't know about you but I never think about the ancient world when I'm writing music.
I certainly don't care if my work is modernist or post-modernist and I don't care about it in architecture either.  People created according to classical principles for a long time, then a group said make it new and then another group came along and said well let's go back to classical models and now some are doing one and some are doing the other.  None of which is particularly surprising or interesting.
So, let's declare modernism a success and move on.  Quit the talk of modernist and post-modernist and come up with a new way to discuss art and architecture. It would really make me happy.
News
'Sawtooth Hammer' Performance on August 15th

Sound of Silent Film is April 30 and May 1

'Dreaming Grand Avenue' Film Premiere September 23rd

September 23rd

7:00 PM