Blog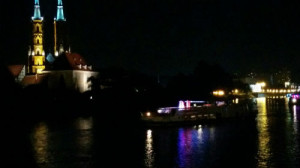 I got into Wroclaw last night for the World Music Days festival just in time to head to the river with two others to hear a unique performance of music from two boats on the river in front of the famous cathedral.  It was quite an experience!
I thought at first that they had musicians on the boat and that they were amplified but no, as it turns out I was hearing the actual ship's horns reconfigured to play musical scales.  The boats motored around the inlet and performed in synch with each other which was incredible.  They played mostly minimalist works although the only piece I actually recognized was Six Pianos by Steve Reich.
Below is audio that the producer of Relevant Tones Jesse McQuarters captured on the spot.  What a way to start the festival!
News
Seth & Gene's Live Score Movie Horror Show

'Three for Zhou B' Performance October 10

ACM Hits Doors Open Milwaukee on September 22nd

'Vanishing City' at Lincoln Center on September 20

'Songs About Buildings and Moods' is Monday, September 10

'Thirsty Ears,' Chicago's Only Classical Music Street Fest is August 11 and 12

8/11 and 8/12

1:00 - 9:00

Concept Lab At Cornelia Street Cafe

8/26/2018

6:00 PM

$10

Grant Park Music Festival Lectures