Blog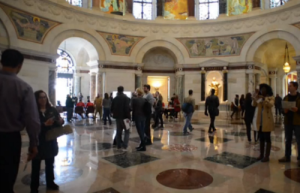 I'm a big believer in putting musicians in public spaces in order to bring contemporary music to wider audiences.  As someone who has been producing contemporary music concerts for over ten years now I've found this a highly effective way to reach new people and have fascinating conversations about contemporary classical music and what the art form has been up to for the last hundred years, which is usually news to most of the people I talk to.
Next month my company Access Contemporary Music will be presenting music in public spaces for two great events: Open House Chicago and the Ravenswood Art Walk.  We've worked with the Chicago Architecture Foundation to provide a musical component to Open House Chicago since its inception four years ago.
Our composer members write music inspired by several of the venues in Open House and then we have musicians present the days of the event to perform the music every 15 minute or so as hundreds of people come through.  Over the years we've also amassed a great collection of videos of these events and, as we get closer to Open House on October 18 and 19, I'll post several of these.
The Ravenswood Art Walk is a unique event.  Sure it's a street festival and Chicago is lousy with street festivals but this one really is about the art and that's what has always drawn me to it.  This year we're working with percussionist and producer Peter Ferry and Julius Meinl to have a "music walk" component that includes musicians in several of the venues playing, you guessed it, contemporary classical music.
Between the  two events we'll have musicians performing in nearly ten different public venues over two weekends.  It's my favorite time of the year and I'm excited to talk about contemporary music with so many new people. Videos to come very soon!
News
'Sawtooth Hammer' Performance on August 15th

Sound of Silent Film is April 30 and May 1

'Dreaming Grand Avenue' Film Premiere September 23rd

September 23rd

7:00 PM