News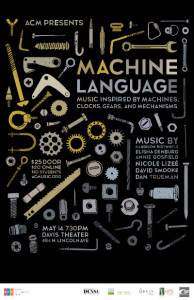 ACM's final concert of our current Chicago season happens on May 14 at 7:00 at the Davis Theater and features music inspired by machines, gears, mechanisms and toys.  I had a blast programming this concert and it's going to be fantastic.
We'll give the World Premiere of Mechanical Bird Museum by David Smooke, a piece we commissioned for our Composer Alive project.
We'll perform Cranks and Cactus Needles by Annie Gosfield, a piece inspired by the earliest record players that used cactus needles and had to be hand-cranked.  The concert also features Dan Trueman's Machine Language, a piece inspired by the concept of computer algorithms designed to act like humans.
Then we have Nicole Lizée's piece Sculptress inspired by outmoded technology and we'll close it all down with Elisha Denburg's Fisher Price Laugh and Learn Fun Table for ensemble, toy piano and, yeah a certain Fisher Price toy from the old days.