News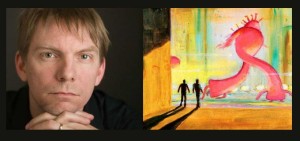 I've been doing a periodic solo show called the Cosmic Milk With Seth Boustead that primarily features performances of my music but is also a place for me to show off some different parts of my personality, including my sense of humor and, in this case at least, my ability to play pop music on the piano.
Here's the official description. See you there!
Composer, pianist and radio host Seth Boustead performs a new installment in his Cosmic Milk series featuring an ambitious piano arrangement of the entire iconic Flaming Lips album Yoshimi Battles Pink Robots.
The evening also includes music by Boustead inspired by Barcelona architecture, a certain audio book by Michael Wolff and – why not? – a water nymph.
"Boustead crafts music that is at once lyrical and whimsical," said someone from the New York Times once.
"Boustead has a penchant for crafting dark, angsty scores," said the Onions A/V club a while back.
"I don't know where the sun beams end and the starlight begins, it's all a mystery," said Wayne Coyne in 2002.
Saturday, February 17 7:30 PM
Chopin Theater
1543 W. Division St.
$10