Blog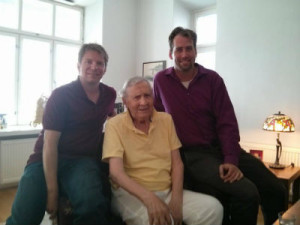 The interview I'm the most proud of was Einojuhani Rautavaara who is a legendary composer well into his 80's who was mentored early in his career by Jean Sibelius.  He had an incredible presence and, although he has a hard time talking now after a stroke a few years back, he talked engagingly about his music and philosophy of life and I felt a very strong connection with him. That my producer Jesse McQuarters and me with him after the interview which took place in his home near the sea on a gorgeous Saturday afternoon.
My favorite interview quote from any of the composers we've talked to so far came from Matthew Whithall, a Canadian transplant who has been in Finland now for several years.  He was talking about how contemporary music is well integrated into normal classical music concerts here and he said "the first time I realized I was in a different place was when an orchestra played a piece by Magnus Lindberg that was essentially a 30 minute sonic assault and the audience leapt to their feet when it was done and gave a standing ovation. And Finns never give standing ovations."
I was incredibly lucky last night to be able to attend the closed dress rehearsal of Shostakovich's recently discovered, unfinished comic opera Orango being done by the Finnish Radio Symphony with Esa-Pekka Salonen conducting.  As if that weren't enough they gave a hair-raising performance of the 4th symphony afterward.  A perfect pairing in my opinion.  An opera lampooning the Soviet system on the same program as the infamous symphony that got Shostakovich in trouble with Stalin and was the beginning of so many of his woes.
There have been so many magical moments here, I'll try to write more soon.
News
'Sawtooth Hammer' Performance on August 15th

Sound of Silent Film is April 30 and May 1

'Dreaming Grand Avenue' Film Premiere September 23rd

September 23rd

7:00 PM