Blog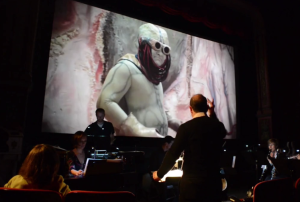 Why do directors still make silent movies in the modern era? This is of course a rhetorical question that I don't have the answer to but I suspect that for many directors the idea of telling a story without dialogue, or even sound effects, is an intriguing challenge and so, though the days of Rudolph Valentino are long gone, there are still an incredible number of filmmakers today working in silence.
In 2005 I had the idea to start an event that would pair images with newly composed music in an interesting and innovative way and I decided that the thing to do would be to focus on modern silent films, which I wasn't even sure existed.  But I wasn't going to let a little thing like that deter me!  My way of doing things is to write a press release and send it to everyone and then I have no choice but to make it happen.
I found the best film from the first year in an almost laughable coincidence.  I went to see Ferris Bueller's Day Off at a neighborhood park with my wife and I ran into someone who asked what I was up to lately.  Upon answering that I was searching high and low for modern silent films he said, "that's funny, the guy across the hall from me is making a modern silent film."
The guy across the hall turned out to be Dave Less and I scored his film Manos de la Muerte for the first year.  Another film from the first year came from Sergio Assad's son Rodrigo who had eschewed the family trade of music and focused on film instead.
Over the years we did some crazy ambitious things like rescore Chris Marker's classic film La Jetee with narrator and a small orchestra, hire singers to perform a deeply satirical version of the opera Carmen by Alexander Payne, ask four composers to write a seamless score for Hiroshi Teshigahara's 74 minute masterpiece Gaudi, and perform music for a film to be projected in four directions simultaneously.
But the last couple of years have been the best.  The addition of conductor Francesco Milioto and a regular body of performing musicians have meant extraordinarily high musical quality, all of the movies are now submitted to us by world class directors which has vastly increased the quality of the films we're showing and the audience is growing too.
It's hard to believe that it's been ten years since I sent that first press release. It's been a wild ride but I wouldn't change a thing.  Here's hoping for ten more years!
News
'Sawtooth Hammer' Performance on August 15th

Sound of Silent Film is April 30 and May 1

'Dreaming Grand Avenue' Film Premiere September 23rd

September 23rd

7:00 PM