Blog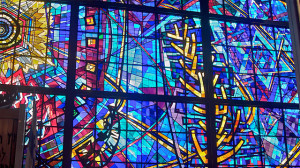 When I was a composition student at the University of Missouri in the early '90's I discovered a book of paintings in the library by Abraham Rattner and fell completely in love with his use of color, dense imagery and religious inspiration.  Then, after I moved to Chicago, I read Henry Miller's The Air Conditioned Nightmare about a car trip he took across the United States in 1945 and who was his traveling partner but Abraham Ratter!
I was smitten.  When I made a CD of my original piano music in 1999 I used his painting Spirit in Flames as the cover art, without permission of course although in my defense I did search the Internet and could not find even an estate or someone from whom to get permission.  Here is the cover for that album.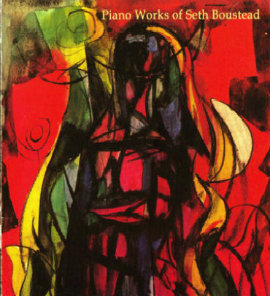 I found the painting online but was never able to find that book that had first fired my interest so many years ago. I searched on Amazon, Ebay, half.com, you name it, but could not find a book of his paintings in print.  After a while I had kind of forgotten about him except for the rare times that I might see one of my CDs lying around.
But then came this year's Open House Chicago and suddenly he came roaring back into my consciousness. Open House Chicago is put on by the Chicago Architecture Foundation and features 150 sites around town offering unprecedented access to the public over a two day period.  ACM has partnered with Open House since its inception to give composers the chance to write music inspired by some of the sites and then place musicians in each site to perform the music for the throngs of people who come through. It's always a big hit and one of the funnest events I produce every year.
This year one of the venues we chose was the Loop Synagogue and, as it turns out, their congregation hall is dominated by a huge stained glass mosaic by none other than Abraham Rattner, (pictured above.)  As soon as I walked into the room I was stunned, not only by the beauty of his art but by the years of memories of looking at his art and thinking that he was by far my favorite artist even though he was so little known.  It was like Proust's moment with the madeleine except it wasn't taste that brought it back but vivid color combined with a deep religiosity.  It was an intense feeling and that was before the music began!
I still haven't found a book of his paintings and I know that very little of his art exists in public collections but at least I now know that I have to travel no further than downtown Chicago anytime I wish to bask in the beauty of his work.  It's amazing to me that I've lived here for 18 years and had no idea that one of his major works was right here.  Better late than never.  And that's the beauty of Open House Chicago: you always discover beautiful new things in your own town.  I can't wait to see what I discover next year!
News
Sound of Silent Film is April 30 and May 1

'Dreaming Grand Avenue' Film Premiere September 23rd

September 23rd

7:00 PM

Sound of Silent Film Festival Virtual Presentation