Blog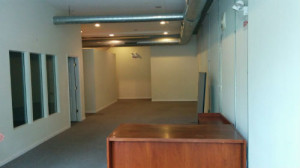 As you may know it has long been my dream to open multiple storefront music schools throughout Chicago that teach musical creativity and the appreciation of musical creativity to students of all ages.  If you can believe it I used to think this would be easy.  Ha!
Above is a photo of a space that I fell in love with in the Avondale neighborhood and this would have been our third location for the school.  Well, it is our third location but things rapidly got complicated.  The space was huge and we couldn't afford or use all of it so the landlord agreed to rent part of it to us on a month to month basis.  If we could come up with enough to let half the space we could sign an exclusive lease for it but if not then we could be kicked out anytime with a 30 day notice to vacate if someone else rented it.
Well that lasted exactly 16 days and then the landlord rented the entire space, including our sublet for which we had paid rent and put down a security deposit, to someone else.  He also did not tell us he had done this and he did not tell the new tenant he already had a tenant there!  The first I heard of it was when one of my teachers texted me a photo of a note from the new guy.
The first thing he does is tear up the floors and move a bunch of junk into the center so our beautiful space looked like this: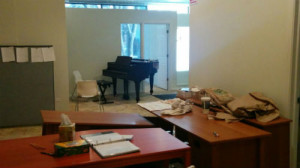 Yikes!  We have 30 students in the Avondale neighborhood so this was very bad.  I complained to the landlord and tried to get a lawyer but it was all to no avail so I started looking for a new space right away.  Fortunately the students were amazingly understanding and we didn't lose any which is incredible.
But it takes a long time to find a commercial space in Chicago.  There are tons of storefronts but they're all too big or too crappy or the landlord wants too much or there's a weird smell and some kind of unidentifiable cheese  growing in the cracks of the floor that would make even a Frenchman gag.  So, it took me a little while but eventually I found a space occupied by a hair salon that was going to be moving out.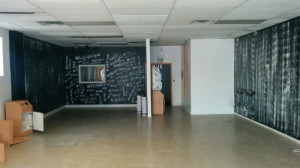 The price was right and so I signed a two year lease right away.  We're going to put down carpet, paint and build two practice rooms and should be ready to start lessons here on December 1.  To think that I used to think that managing multiple sites would be easy!  It's all been a very interesting learning process and, since I plan to open at least ten more, I guess I'll be learning for a long time to come .
While all of this was happening we were renovating our Rogers Park space too.  Here are a couple of pics of the space during construction and afterward with the beautiful new carpet.   Can't wait until the Avondale space looks like this. I never dreamed when I was in music school that I would one day know so much about renting and renovating commercial spaces.  It's just not something they cover in the core curriculum.
Before and After: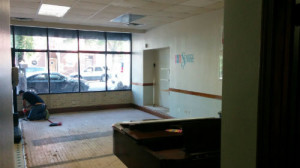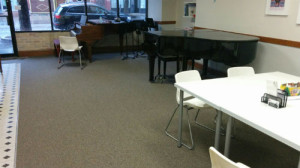 Yay!
News
Seth & Gene's Live Score Movie Horror Show

'Three for Zhou B' Performance October 10

ACM Hits Doors Open Milwaukee on September 22nd

'Vanishing City' at Lincoln Center on September 20

'Songs About Buildings and Moods' is Monday, September 10

'Thirsty Ears,' Chicago's Only Classical Music Street Fest is August 11 and 12

8/11 and 8/12

1:00 - 9:00

Concept Lab At Cornelia Street Cafe

8/26/2018

6:00 PM

$10

Grant Park Music Festival Lectures