Blog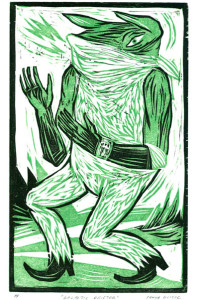 I was fascinated by this character the first time I saw this woodcut, the Galactic Drifter by Sanya Glisic. I was tasked with setting several of Sanya's works to music by Amos Gillespie for a project called Paintings Composed and they'll be playing this one at the Thirsty Ears Festival in a couple of days.
As I stared at the woodcut I pictured him dancing around space, teleporting to different worlds using the chronometer on his wrist and generally getting into mischief wherever he goes. Based on his footwear he may also have a passion for dancing.
I wanted to bring this idea across with a bluesy pizzicato part in the cello but I'm not really a fan of traditional blues and I have this compulsion to make everything more complex than perhaps it needs to be so it's a bluesy cello pizz part that incorporates multiple pitch sets. But don't worry, it's still fun.
Then there's a section where the flute, clarinet and cello play syncopated rhythms together and the saxophone comes in out of sync with them.  It's my favorite part of the piece, although I like the lonely sax solo too.  Because of the sax solo and his aloofness in the syncopated part, the musicians thought that Amos was the Galactic Drifter but I promise I was thinking of no such thing.
Here's the great recording from the original project some years back.  Best to listen to it while staring intently at the woodcut.
News
Sound of Silent Film is April 30 and May 1

'Dreaming Grand Avenue' Film Premiere September 23rd

September 23rd

7:00 PM

Sound of Silent Film Festival Virtual Presentation