Blog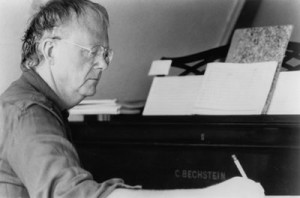 I recently interviewed Dutch composer Louis Andriessen and we had a typically thought-provoking and wide-ranging conversation about music, politics, philosophy, social justice and what kind of music a composer should write. The first question I asked him was "Is music something that can exist outside of politics or outside of the composer's particular social landscape?"
His answer was that yes music can exist separately but that it shouldn't. That especially in the modern age the composer should write music that causes people to ask the big questions of social justice, race, gender and class equality, and religious and ethical mores. When composers were servants, he continued, writing music for parties and such then they couldn't do things like this but in our era they can and should.
This conversation stayed with me and I found myself thinking about it for days afterward. I didn't grow up in a politically fraught environment. In fact my generation had it pretty easy. But I still do think about the issues that Andriessen is so passionate about even if they don't surface in my music.
For me advocating on behalf of music, which I equate to social justice in that proliferating storefront music schools is good for society, is a separate activity from writing music. Or so I always thought. These days I'm not so sure. As I open storefront music schools and plan concerts and make radio shows I do wonder how these activities are impacting the music I write.
I always thought that when I go into a room to write music all of that should go away. But now I'm thinking it could be a source of musical inspiration which, frankly, has been somewhat hard to come by lately. Have to think on this a bit…
News
Sound of Silent Film is April 30 and May 1

'Dreaming Grand Avenue' Film Premiere September 23rd

September 23rd

7:00 PM

Sound of Silent Film Festival Virtual Presentation