Blog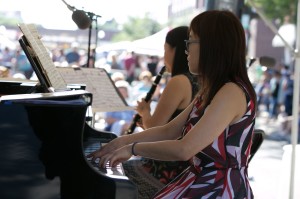 The highlight of summer for me is the Thirsty Ears Festival, Chicago's only classical music street festival, now expanded to two days.
From Beethoven to Shostakovich to George Flynn, there's something for everyone!
Or if you don't like music you can just stand around drinking beer like most people at street festivals do.  We'll have two great beer options for you from Chicago's own Empirical Brewing.
Plus food trucks, vendor booths and family friendly activities all on a friendly, tree-lined street in idyllic Ravenswood.
I'm so very pleased that we have sponsors this year too.  We've received very generous support from PianoForte Chicago, Connect Hearing, Shure, WFMT and Hazel Chicago.
News
Sound of Silent Film is April 30 and May 1

'Dreaming Grand Avenue' Film Premiere September 23rd

September 23rd

7:00 PM

Sound of Silent Film Festival Virtual Presentation