Blog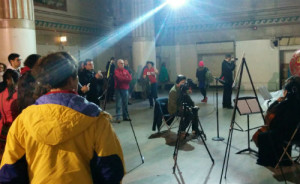 This is a terrible photo and I apologize but it was tough to get a good shot with those obnoxious light bulbs strung overhead and this was the best angle I could find.
ACM musicians are performing Tim Corpus' piece Letters Home in a long-shuttered part of Union Station as part of Open House Chicago.  In the 1920's and '30's this was the 'Women's Lounge' as waiting areas were actually segregated back then by gender.
In just the hour or so that I was here there were well over 400 people who heard Tim's music.  Since the musicians were there for three hours total playing the music every 15 minutes, and traffic was steady, that means that Tim's piece was heard by 1,200 people more or less.
Open House Chicago is my favorite time of the year.  This year we had composers write music for five different spaces and had musicians playing the music every 15 minutes in all of them.  It's just an incredible experience to play newly commissioned music for so many people who are so appreciative of what's happening.
This year two of the composers traveled to be present, one from Texas and the other all the way from Edinburgh Scotland.  I'll have the videos soon and will post them.
The other great thing about Open House is the launch party they throw every year in unique spaces that most of us would otherwise never see.  This year it was in this former law library turned bar.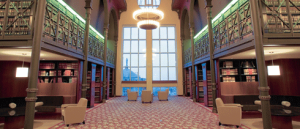 News
'Adrift' to be Performed at Concept Lab December 16

Open House Chicago is October 13

Seth & Gene's Live Score Movie Horror Show

'Three for Zhou B' Performance October 10

ACM Hits Doors Open Milwaukee on September 22nd

'Vanishing City' at Lincoln Center on September 20

'Songs About Buildings and Moods' is Monday, September 10

'Thirsty Ears,' Chicago's Only Classical Music Street Fest is August 11 and 12

8/11 and 8/12

1:00 - 9:00