Blog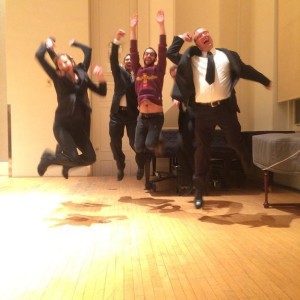 May is always a busy month for classical music as we wrap up our concert seasons and prepare to adjourn to our summer homes to drink port, abuse the help and shoot defenseless animals.
Sadly though, this year I'll be stuck in the city as my beloved manor burned down last fall during a regrettable flare-gun duel with an impudent young oboist who questioned my knowledge of French Baroque performance practices.
Which admittedly I know nothing about, but still, what the hell? At any rate, here are my favorite upcoming classical music events, sans impudence.
Bernstein and Mahler—Elgin Symphony

I heard an interview with Leonard Bernstein many years ago in which he spoke about conducting the music of Mahler in the composer's hometown of Vienna. The musicians hated the music and Bernstein could hear them muttering "scheiße musik"—"shitty music"—under their breath throughout the rehearsals.
Nowadays the general consensus is that Mahler's music is quite a lot better than shitty and, in large part we have Bernstein to thank for it. The Elgin Symphony closes out their season with a brilliant pairing of Lenny's first symphony, inspired by the angst-ridden life of the prophet Jeremiah, with Mahler's Symphony Number 4, containing a musical depiction of a child's vision of heaven.
May 1 at 2:30pm, Hemmens Cultural Center, 45 Symphony Way, Elgin; $30-$65
Flutronix
At this point people have tried blending classical music with everything from rock and reggae to drum and bass, usually with limited success. Which is a nice way of saying that it sucked. But flutists extraordinaire Nathalie Joachim and Allison Loggins-Hull have created an undeniably interesting performance aesthetic with Flutronix, a "blend of classical music, hip-hop, electronic programming and soulful vocals reminiscent of neo-R&B stars like Erykah Badu."
May 10 at 6:00pm, Museum of Contemporary Art, 220 East Chicago; $12 ($7 students & seniors)
Ursa Ensemble—Quartet for the End of Time
A story old as time: prolific visionary French composer is captured during WWII and sent to a German POW camp, where he spends his days scribbling away on a transcendental masterpiece which he then premieres in the camp with other musician inmates for a small audience comprised of prisoners and guards.
Though I've never heard it performed as it's meant to be heard—on makeshift instruments in a jail watched over by stone-faced Nazis—it's still an incredible experience when played by professionals on modern instruments in a pristine concert hall. Any chance to see it performed live should not be missed!
May 11 at 7:30pm, Narloch Piano Studio, 4636 North Francisco; $10 suggested donation
The Chicago Composers Orchestra—Hymn to Humanity
Begun by composers Brian Baxter and Randall West and now in its sixth year, the Chicago Composers Orchestra is a kind of miraculous happening akin to, well, watching a winning Cubs team. A full orchestra interested in programming new works, often by unknown composers, most of whom are local? It's proof positive that anything can happen.
Led by its new music director Allen Tinkham, the CCO takes on works by Bang on a Can stalwarts Julia Wolfe and David Lang and premieres an ambitious new work for orchestra and chorus by Eric Malmquist for which they'll be joined by the Wicker Park Choral Singers.
May 13 at 8pm, St. James Cathedral, 65 East Huron; $15-$20
High Concept Labs—Open House 2016
The artist residency program at High Concept Labs has consistently produced imaginative collaborations and wide-ranging cross-disciplinary works of great quality. Their annual Open House is a chance to experience a kind of speed date version of their current visual art, performance art and musical projects.
May 14 at 7:30pm, 2233 South Throop; $15-$30
News
Sound of Silent Film is April 30 and May 1

'Dreaming Grand Avenue' Film Premiere September 23rd

September 23rd

7:00 PM

Sound of Silent Film Festival Virtual Presentation