Blog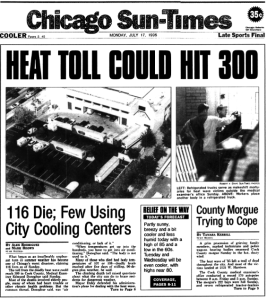 That's the headline of the Chicago Sun-Times on the day that I moved to Chicago, exactly twenty years ago today.   They predicted the heat toll could kill nearly 300 but in the end it would kill nearly 1,000.
I moved here the summer of that awful heat wave and there were also massive power failures everywhere and my first memories of the city are of oppressive heat and pitch black nights filled with the sounds of ambulances and half-glimpsed shadowy figures moving laconically through the streets.
On my second night in town my friend Chris and I were at the L & L Tavern and decided to go to the Green Mill and, being new to the city, that it would be best to walk there.  We walked north on Broadway through what at that time was one of the worst neighborhoods on the north side of the city during a complete blackout and, as if often the case with the innocent and the insane, made it through without incident.  It was only later that we realized how stupid we had been.
I also remember hitting the streets to look for a job and seeing a hair salon on Diversey called Curl Up and Dye and thinking how appropriate the name was.  While looking for a job that first week I saw so many signs looking for stylists that I considered becoming one.  Instead my first Chicago job was at the newly opened WTTW Store of Knowledge in the Water Tower mall unloading trucks on the loading dock.
I had no money to even take the train and a co-worker gave me a shitty old bike he had with no seat that I rode each day from Rogers Park.  I brought exactly sixty-two cents with me each day which what a $.59 bean burrito cost at Taco Bell and was all I could afford for lunch.  To this day I'm convinced that Taco Bell saved my life although I did stop eating their food as soon as my circumstances improved.
I'm in a better place now twenty years after the big move but I'll never forget that first week and I can still feel the incredible heat of that first summer in the city.
News
Sound of Silent Film is April 30 and May 1

'Dreaming Grand Avenue' Film Premiere September 23rd

September 23rd

7:00 PM

Sound of Silent Film Festival Virtual Presentation