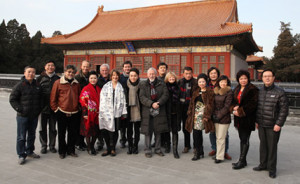 That's a picture of the Forbidden City Orchestra with the New Zealand String Quartet during a recent tour of China and New Zealand.  They partnered up to commission composers from both countries to write for them and then toured the resulting pieces throughout both countries.  I'll be talking to them and featuring audio from this tour on the first Relevant Tones episode in quarter four of 2014.
Now that the show is syndicated we have to plan so much further ahead than we did before which takes away some of the spontaneity but also causes us to do a lot more research and we stumble across really interesting projects like this that I doubt we would have found out about otherwise.  Here then are the complete Q4 show listings!
10/4 Into the Forbidden City and Beyond
In a barrier-busting intercultural collaboration, the Forbidden City Chamber Orchestra partnered with the New Zealand String Quartet to tour commissioned pieces by composers from both countries.  In a Relevant Tones exclusive, we'll feature the music from this historic project.
10/11 What is Wandelweiser?
Originally a German musical creation, Wandelweiser is a kind of extreme minimalism that is fast becoming popular with composers around the world.  We talk with two of its creators, Jürg Frey and Eva-Maria Houben, about the phenomenal growth of this movement.
10/18 The Art of Spoken Word
It takes fine craftsmanship to achieve a perfect partnership between text and music in which neither element overshadows the other.  This week, we'll listen to a fascinating array of spoken word and music by composers striving to achieve this symmetry.
10/25 Haunted Landscapes: Music of George Crumb
Legendary composer George Crumb created a unique, haunting sound world that leaves an indelible impression upon anyone who hears it.  The master turns 85 in October and we'll celebrate with an entire show dedicated to his outlandish music.
11/1- Through the Grapevine
We're having a ball trying to keep up with our ever-expanding musical collection as composers and performers around the world joyously overwhelm us with their creations.  We're consistently amazed by their level of talent and artistry, and are thrilled this week to share it with our listeners.
11/8 In the Field: Mizzou Part I
Fast becoming the go-to summer music festival in the Midwest, the concerts and workshops at the University of Missouri's International Composers Festival are a sure-fire place to hear imaginative new music from emerging composers.
11/15  In the Field: Mizzou Part II
More music from the vibrant inferno of creative energy that is the Mizzou International Composers Festival, featuring Alarm Will Sound, exciting works by faculty composers and a bundle of premieres, concerts and workshops
11/22 The Polish Legacy
As part of Polish American Heritage Month, we put together a live concert of works by a wide range of composers from one of the great music-loving countries of the world .  We'll hear music from this concert and talk about the incredible legacy of classical music in Poland.
11/29  Has Anyone Seen the Bridge?
Just in the last couple of years Alarm Will Sound has covered Aphex Twin, cello goddess Maya Beiser covered Led Zeppelin and the Osso Quartet recorded music of indie darling Sufjan Stevens.  What's going on here?  We'll feature this fun new trend of performers commissioning composers to arrange pop songs.
12/6 Composer Spotlight – Nico Muhly
He's worked with, and written and arranged for, performers as diverse as the Chicago Symphony Orchestra, Beyoncé, the American Ballet Theater and Björk, just to name a few.  We sit down to talk to this wide-ranging and highly successful composer about life on the cutting edge of 21st-century music.
12/13 Payton MacDonald – Super Marimba
Percussionist Payton MacDonald calls Super Marimba the nexus point of all of his artistic activities.  Featuring influences from jazz and classical to Hindustani and improvisational music, this is the marimba as you've never heard it before.
12/20 – Journey into the Sacred: Modern Oratorios
Large-scale sacred works might not be the first thing that comes to mind when you think of contemporary music, but a number of important composers are creating expansive works inspired by their concept of a higher power.
12/27-  Composers Among Us: Laura Schwendinger
Our popular series profiling emerging composers continues with Laura Schwendinger, an artist whose strongly personal style of music is filled with kinetic energy and slow-burning intensity.