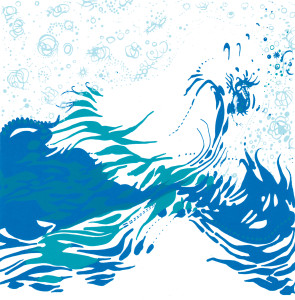 This print is called Deep at Sea and it's by the wonderful artist Renee Robbins who was my partner for the Ten x Ten project which will culminate in a final concert and gallery opening on November 16.
Ten x Ten was a collaboration with Spudnik Press, Homeroom and my company Access Contemporary Music to pair ten composers with ten visual artists to create new collaborative works.
We made an album with recordings of the music by ACM's resident ensemble Palomar and the album also contains all ten of the corresponding prints in beautiful full color.  I couldn't be happier with how the collaborations came together, I'm very proud of the work that Renee and I did on our piece and of all of the artists and composers involved.  Everyone really did collaborate in the fullest sense of the word and the results were absolutely unique.
You can get tickets for the concert here.
Read a preview of the event here
Listen to the music I wrote for Deep at Sea here
And lastly you can buy the album here!